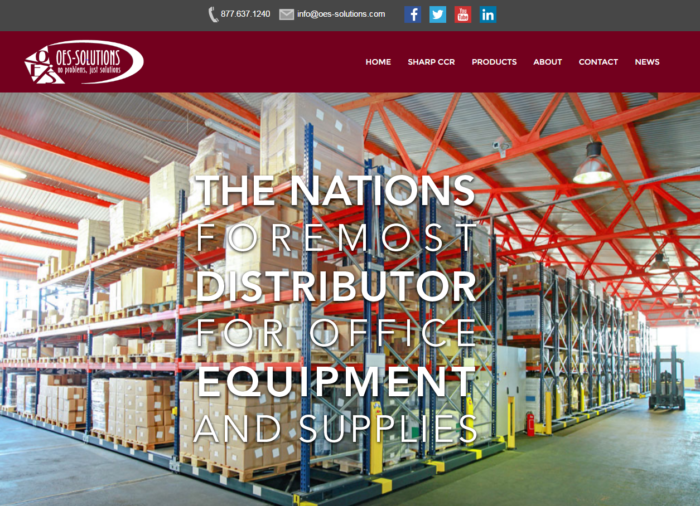 OES-Solutions Launches New Website
OES-Solutions Launches New Website…coming November 1, 2016
By OES-Solutions on Sept 26
Westfield, IN, September 26, 2016. OES-Solutions is pleased to announce the launch of its fully-featured website www.oes-solutions.com. The new site has extensive content including all of our available product and a news page so you always know what's new at OES-Solutions.
OES-Solutions website is designed to assist copier and printer dealers in making well-informed decisions about product in the context of unique financial needs and goals. The website highlights the Sharp Certified Channel Reseller (CCR) Program, which is designed exclusively for emerging independent dealerships in the $1,000,000 to $5,000,000 annual revenue range.
As part of its objective to provide critical information to the dealer market, OES-Solutions is proud to introduce "Tech Time with Tim" which provides quick solutions to the most common tech questions. The site also includes extensive product information and a simple compare tool to help dealers find the perfect solutions for their customer's needs.    
Created with the user experience firmly in mind, the website has been designed using the latest technology so the site is compatible with todays' browsers and mobile devices – without the need for Adobe® Flash to view it.
On the new OES-Solutions website, visitors can also stay informed with the latest news of the company, and the whole copier/printer industry. The "News" section features the latest announcements, upcoming webinars and conferences, new product and service notices, and any other changes/upgrades coming to OES.
Visit the new OES-Solutions website and give us your feedback by posting a comment on our Facebook page.
About OES-Solutions:
OES-Solutions, a national distributor for office equipment and supplies, was founded by Chip and Danny Terril in 2000. Founded on the highest standards of integrity, reliability, and flexibility, OES-Solutions has grown into a $200-million-dollar company which maintains a robust workforce with an average tenure of 14 years. OES strives ever day to find ways to improve our customer service mission while staying true to our core values of integrity, reliability, and flexibility.  
Contact:
OES-Solutions
Alexis Lowry, Marketing Director
(317) 763-2075
Email: alowry@oes-solutions.com