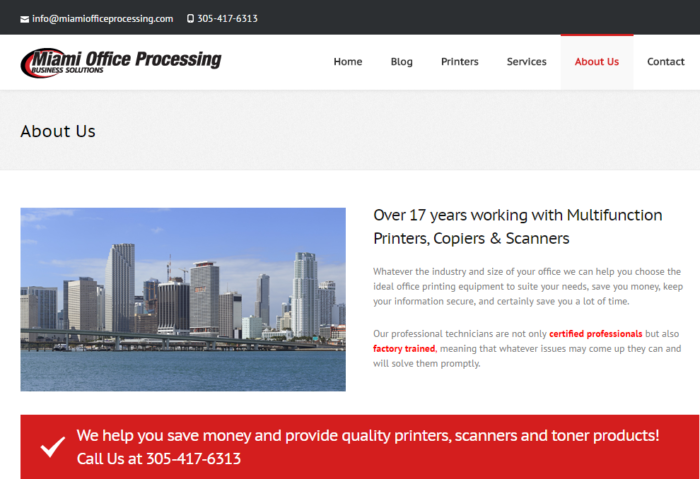 Miami Office Processing
Opened in 2009 and based out of the Miami, Florida area, Miami Office Processing has become one of Sharp Electronics' largest and most consistent dealers in the Certified Channel Reseller (CCR) program. Their commitment to the program and continued growth has earned them the distinction of being one of the nation's premier CCR providers for Sharp products.
Founder and President, Suzette Fuentes, has over 20 years in the office products industry and has worked for corporations such as Xerox, Canon and Sharp. During her time representing each manufacturer she was able to consistently rank herself among the top sales consultants and earned the President's Club status a number of times.
Co-Founder and Vice President, Robert Rousseau, also with over 20 years in the industry has received a number of awards and recognition on the service end of the business with Sharp Electronics. His dedication to providing the highest level of after-the-sale service to their clients makes Miami Office Processing an excellent choice as a provider of Sharp technology.
The team at M.O.P. largely contributes their success to taking the time to completely evaluate their customers' current document workflows and technology needs. They are then able to provide a comprehensive solution that will exceed customer expectations. Through exceptional sales/service support and Sharp's industry leading technology, M.O.P. is able to increase productivity and reduce costs while establishing a long-term partnership with their customers.
Sharp currently manufactures some of the most popular and powerful multi-function products in the industry. Their current technology includes the ability to interface directly with popular platforms like Google Docs, Microsoft SharePoint, Mopria and Apple Air-Print. Sharp also maintains the highest standards for data security and offers one of the most comprehensive solutions interface through their Open Systems Architecture functionality.
The partnership that Miami Office has established with OES-Solutions as their Sharp Master Distributor enables them to enjoy exceptional support for products and services that they provide to their customers. M.O.P.'s goal will always be to provide the best products, solutions and service available to the end user.
The team at Miami Office Processing strives for excellence in all areas and recognizes that they are truly judged by their performance and satisfaction levels with their customers. Through this philosophy, they believe that they will continue to thrive in a diverse and competitive marketplace; serving the Miami area for many years to come!