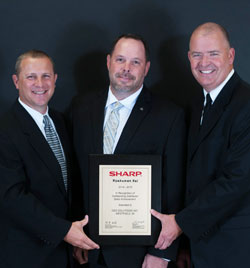 Sharp has partnered with OES- Solutions and is actively seeking to expand the distribution of its award winning product line through growth oriented office equipment dealers. This innovative expansion initiative is designed exclusively for emerging independent dealerships in the $1,000,000 to $5,000,000 annual revenue range.
This unique business model is designed to keep investment costs to a minimum while providing the dealer with industry leading products, hands on sales and service support, and after-market revenue on supplies and parts. As a Sharp Certified Channel Reseller (CCR) your dealership is authorized to purchase small, mid-sized, and high volume workgroup document systems and supplies from OES-Solutions. Sharp CCR's can expect leading edge technology, competitive pricing, timely delivery and the support they need to grow their dealerships to maximize market share penetration.
With our state-of-the art training facility, OES-Solutions can provide comprehensive training for our CCR dealer sales and service representatives.
What are the benefits of becoming a Sharp CCR Dealer?
2007 / OES-Solutions Sharp CCR History
2007
Our territory was only Minnesota, Wisconsin, Michigan, Iowa, Illinois, Indiana, Ohio, Missouri, Kentucky.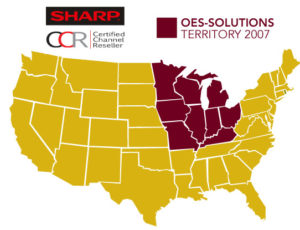 2010 / OES-Solutions Sharp CCR Program
2010
Our territory expanded to include Montana, Idaho, Utah, Colorado, Wyoming, North Dakota, South Dakota, Nebraska, Kansas, Oklahoma, and West Virginia.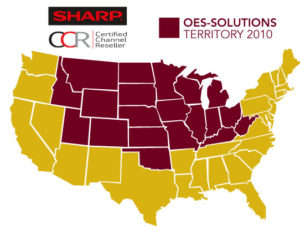 2015 OES-Solutions Sharp CCR Program
2015